Stunning Tissue Paper Flower Bouquet
You and your kids will be inspired to create a blooming bouquet of colorful paper flowers to celebrate the arrival of spring. In fact, these flowers can be enjoyed just about anytime and anywhere.
​You'll only need basic items such as an empty cardboard egg carton, tissue paper from gift bags, some long, thick pipe cleaners, paint, a dab of glue and a shiny tin can or pretty vase for arranging and displaying the whimsical blooms.
Here's how
-First, repurpose the bottom of a cardboard egg carton. With the lid removed, paint the outside of the base of the carton. For a multicolored bouquet, paint the individual cups different colors. After one coat, I let mine dry, and then I dipped a toothpick in a contrasting color and made tiny polka dots all around. For sunflowers, paint the cups brown or black. Let dry.
​-Cut out each cup and round off pointed edges. Grab the pipe cleaners, and one by one, glue an end of each one to the center of a cup for the stems. Let dry.
-Next, repurpose tissue paper from gift bags. Use a round bowl or saucer 6-inches in diameter for a pattern. For each flower, set the pattern on top of six layers of tissue paper and draw a circle with a pencil. Cut the layers out in the circle shape, staple the stack of six together at the center point, and then punch a hole near the staple. Make 12 1-1/2-inch slits around the circle to create "petals."
​-Drizzle glue around the outside rim of one of the pipe cleaner egg cups. Immediately slide a packet of six tissue circles up a pipe cleaner stem and press onto the glue. Let dry. Scrunch the tissue around the clipped petals. Make several and arrange the flowers in a vase, pitcher or shiny tall tin can.
It will be a bright and colorful centerpiece the whole family will enjoy!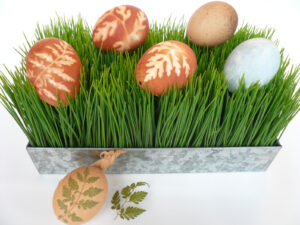 Bring back the past by dying your Easter eggs the way it used to be done – with natural items straight from the kitchen and garden.Here's what you'll need:–Hard-boiled eggs or blown eggs (see below for how to blow eggs)–Nontoxic, safe food items such as blueberries or red cabbage leaves for blue, walnut shells, tea…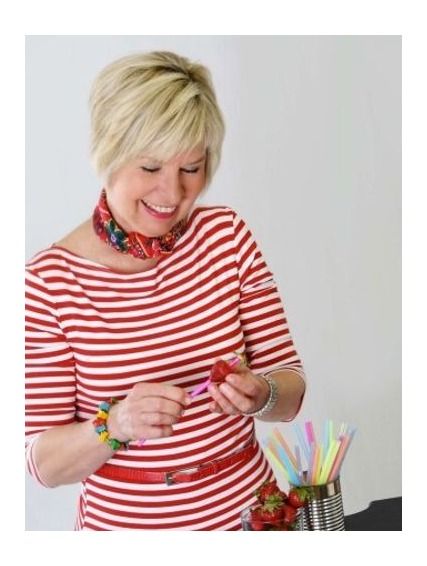 Sign Up For My Newsletter