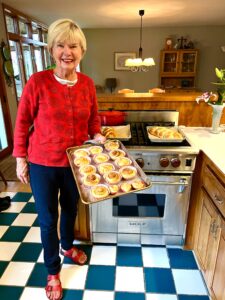 Throughout Sweden, there are a variety of ways to make, shape and bake these delicious cinnamon rolls.  There is even a national Cinnamon Roll Day every October!
I learned how to make them in friend Inger's kitchen when I was teaching at a college in Jönköping. Inger always found a little job for my two young children as we moved through the steps. 
Hands playing in the dough, hands sprinkling cinnamon and sugar, what could be more fun?  
Tasting the cinnamon rolls warm out of the oven, while sitting around a candle lit table on a winter's day, made special memories.
Makes about 40 rolls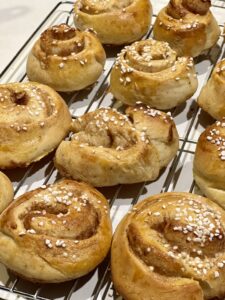 Dough:
1 package (1/4 oz) active dry yeast 
1/4 cup warm water (112-115 degrees)
1/2 teaspoon sugar
2 1/2 cups milk
3/4 cup butter
1 cup sugar
1 egg, slightly beaten
1 teaspoon salt
1 tablespoon ground cardamom (or to taste)
7-8 cups all-purpose flour
Filling:
8 tablespoons unsalted butter, room temperature
1/2 cup sugar
2 tablespoons ground cinnamon
Topping:
1 egg lightly beaten 
Pearl sugar  
In a small bowl, dissolve yeast and 1/2 teaspoon sugar in warm water. Let stand 5 minutes as bubbles form. 
Meanwhile, heat milk and butter in a saucepan until butter melts and temperature is 110-112 degrees.
Pour warm (not hot) milk mixture into large mixing bowl. Add yeast, sugar, egg, salt, cardamom and half of the flour. Stir together until smooth with a wooden spoon or beat with an electric mixer with a dough hook. Add remaining flour 1 cup at a time, thoroughly mixing as you go, until smooth.
Turn out on lightly floured board and knead using any remaining flour until light and elastic. 
Grease a large bowl with butter and add dough to bowl, turning dough to grease top.  Cover with a dish towel and let rise in a warm place until doubled, about 1 to 1 1/2 hours.  
Punch down, divide dough in half.  On a floured surface, use a rolling pin to roll the first half to form a 12-inch by 16-inch rectangle.  
For filling, spread 4 tablespoons of softened butter over entire surface of dough. Combine sugar and cinnamon and sprinkle half of the mixture evenly over the butter.   
Roll up dough lengthwise, pinching to seal. Stretch formed log to about 24-inches long. Slice into 20 equal sized pieces using a serrated knife or pastry cutter. Transfer each roll to a paper baking cup or onto parchment covered baking sheet. 
Repeat with remaining half of dough.
Loosely cover buns with a kitchen towel and let rise for 30 minutes. 
Preheat oven to 425 degrees.
Brush each bun with the whisked egg, then sprinkle with a pinch of pearl sugar.
Bake 8-10 minutes, or until golden brown. 
Transfer to cooling rack.
Donna Erickson creates relationships and community through food and fun. 
Find more:
Instagram: donnaerickson_donnasday
Facebook: Donna's Day
Website: DonnaErickson.com
"Look, Mom, muddy hands!" This might be a familiar chorus you'll be hearing as your kids dig into the joys of outdoor activities. Face it, kids and messes go hand in hand when it comes to being creative and having fun.    Let's start with the kitchen, often referred to as "Mess Central" in…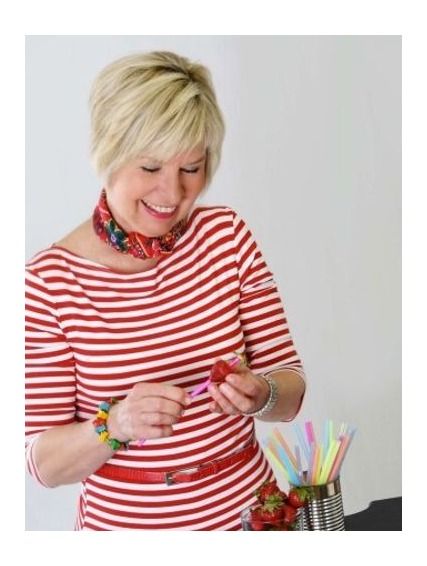 Sign Up For My Newsletter