Make An Apron For Kids With A Kitchen Towel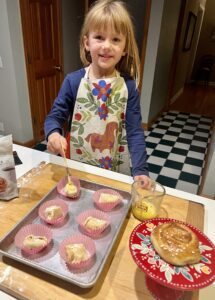 "Look, Mom, muddy hands!" This might be a familiar chorus you'll be hearing as your kids dig into the joys of outdoor activities. Face it, kids and messes go hand in hand when it comes to being creative and having fun. 
  Let's start with the kitchen, often referred to as "Mess Central" in our house, where everyone, including the dog, likes to hang out. Keep clothes clean while giving your kids a sense of importance with their own kitchen attire — an apron! 
Here's how to make aprons for your "Jr. Chefs" in three easy steps.
  1. Purchase an inexpensive, colorful kitchen hand towel approximately 15 by 24 inches. You'll find a variety of styles and colors at kitchen and discount stores. Let your kids choose a pattern or design they like.
  2. Lay the towel flat on a counter, wrong side up. Fold over two corners at the two upper ends of the towel to create the top bib shape. The folded-over portions will look like triangles that are about 5 inches by 5 inches by 7 inches. Sew or use fabric glue to hold the folded portions in place. 
  3. Sew grosgrain ribbon at the newly formed upper corners for the neck strap. Sew on two more lengths of ribbon on both sides of the apron, below the folded triangles. Use them to tie the apron around your child's waist. If you wish, add decorative items to the fabric, such as buttons, or use fabric paint in squeeze bottles to write words or make designs. Let dry. Place over your child's head, and she'll be ready to stir up some fun.
  Hang a special hook at your child's height on your kitchen door or wall to hang the apron when not in use.
  Tip: This simple-to-make apron is perfect for a birthday party if the kids will be doing a messy craft activity or preparing a pizza or dessert. The party guests can take their aprons home for a special party favor they'll use over and over again.
("Mongolia" ceramic cake stand and "Mongolia" kitchen towel at www.gudrunsjoden.com)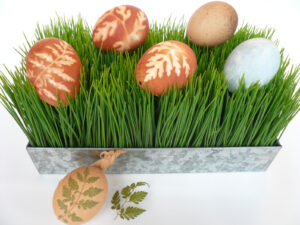 Bring back the past by dying your Easter eggs the way it used to be done – with natural items straight from the kitchen and garden.Here's what you'll need:–Hard-boiled eggs or blown eggs (see below for how to blow eggs)–Nontoxic, safe food items such as blueberries or red cabbage leaves for blue, walnut shells, tea…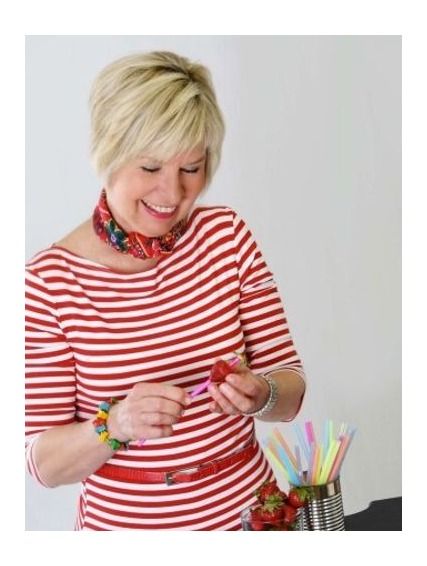 Sign Up For My Newsletter