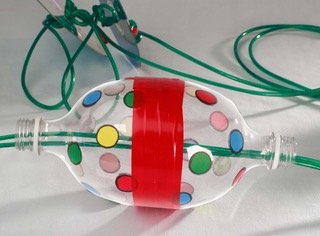 If your school-age kids are moping around with nothing to do, show them how to make their own fun with this action-packed "Zip Toy."
Not only does it make a great "zip" sound going down the line, but its name could just as likely refer to how quickly you and your kids can put it together.
Here's what you'll need:
–2 16-foot lengths of vinyl-coated clothesline wire
–2 clean 2-liter plastic soda bottles with labels
–4 shaped disks the size of a CD cut from sturdy carton-style cardboard
–Plastic electrical tape or strong packing tape
–Pointed scissors
–Paint or stickers for decorating (optional).
CUT off the spout ends of each bottle 1 inch below the top of the label. For a cutting guide, you might wish to draw a line first. You will now have two funnel shapes for the toy. (You will not use the lower portions of bottles.)
MAKE six 1/2-inch slits equidistant around the cut edge of one of the funnel shapes. Slip the cut edge of the other funnel shape over the 1/2-inch slits. Hold the attached funnel shapes in front of you so that the spouts are exactly opposite each other. Wrap tape around the middle to hold the two pieces together securely.
SLIDE both lengths of clothesline through the toy. Make a handle for each of the four ends of clothesline as follows:
From one end, fold over 18 inches of clothesline and double-knot to create a large loop. To protect hands, poke holes in the center of the cardboard disks and thread each one through its hole sliding it up against the double knot. Make another knot on the opposite side of the disk. You'll now have a loop to put your hand through. Repeat with three additional ends. TO PLAY: Two players stand opposite each other and slip their hands in the small loops, holding on to the single knot by the disk as if water-skiing. Make sure the two lengths of clothesline are together, straight and taut. Slide the plastic toy in front of one player. He quickly
opens his arms wide to send the toy zipping to the other player. Immediately, he should bring the two clothesline wires back together to receive the toy again.
Remember: Always keep your hands behind the disks.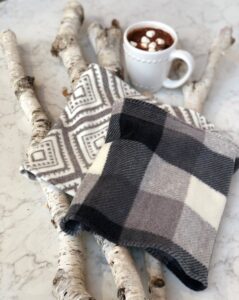 Feeling a little chilly around the neck this time of year? An odd question, maybe, but not quite so out of the ordinary — especially in Minnesota, where I live, and where we have to be conquerors of bitter winds and snow. Even in moderate climates, a little added warmth on a damp, cold day…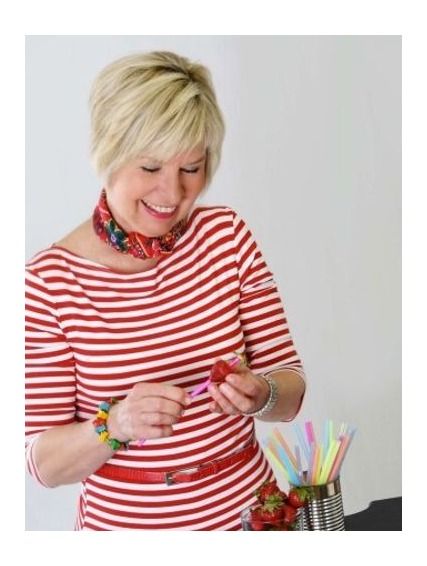 Sign Up For My Newsletter