Homemade Stamps for Heart-Shaped Cards and Gift Wrap
If you are looking for indoor artful fun with the kids this week, put a heartfelt stamp on homemade Valentine's Day cards, gift tags, lunch bags, stationery, you name it, using printing stamps you make together. First hunt for craft supplies and recycled items from around the house, and then make the stamps. You might even peek in the pantry and decide to carve a potato stamp.
Set out paper, paint or a stamp inkpad, and get in the rhythm. Stamp, stamp, stamp. A pink heart here, and a red or violet heart there. And why not print a few X's and O's in between to add to the love?
Here's the stuff you'll need:
–Wooden toy blocks or lumber scraps in sizes easy to hold when stamping
–Self-adhesive craft foam sheets
–Scissors
–Pencil
–Plain sheets of stationery, cardstock and/or construction paper in white or favorite Valentine's Day colors
–Acrylic paints in Valentine's Day colors, or stamp inkpads
–Paper plates and a small paintbrush, if using paint
–Markers for outlining the stamped shape (optional)
Here's the fun:
First, make your printing stamps. Draw hearts, designs or alphabet letters on the foam sheet using a pencil. Cut-out, peel off the paper and press foam shapes on the blocks or wood scraps. (If you only have plain foam sheets, use household glue on the backside and let dry completely.)
On a newspaper-covered table, pour a puddle of acrylic paint on a paper plate. With a small brush, paint the extended design portion of the stamp. Blot on a paper towel, and then stamp the design on the paper. Continue stamping more sheets and cards, adding paint to the stamp as necessary. Let paint dry. Alternate method: Use stamp inkpads.
If you wish, use a marker to outline the shapes to make them "pop" on the paper. I like to use a fine-tip black marker.
Extra ideas:
Make a stamp with a potato. Cut a potato in half. On the cut side, an older child or adult may carve out everything you don't want in the design. Sop up extra moisture from the potato with a paper towel before printing. Poke a fork in the opposite side of the potato for a handle to make stamping easier for small hands, then stamp away.
Make your own stamping pad.
Set a clean, damp standard kitchen sponge on a plastic plate and pour paint on the sponge, making sure not to oversaturate it. When not in use, store for a few days in a container with a tightly fitting lid.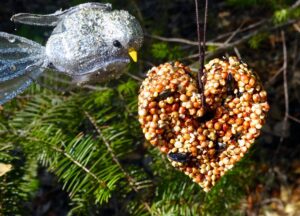 Give a little heart or two, or even three, to your backyard feathered friends with this birdseed treat shaped with cookie cutters. An ideal kitchen craft to enjoy with preschoolers when the big kids are off at school, it's also super-fun for older kids to do with the whole family on a weekend afternoon.Pick up…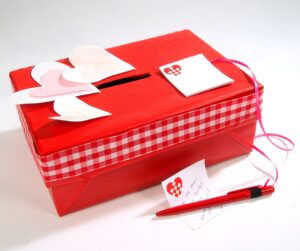 Who doesn't like receiving a little compliment now and then? Positive, sincere words are an affirmation of actions and intent, and they give the recipient a boost, sometimes just when least expected. Blush! Face it – validation from others just makes us feel good and creates that internal glow. Provide the good medicine of encouragement…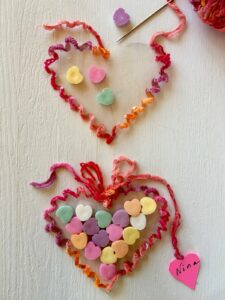 Grab your school-age kids and make these eye-catching see-through "sewing card"-style hearts filled with sweet treats to share the love on Valentine's Day. Here's the stuff you'll need for several heart pockets:–Clear acetate (find by the sheet at art-supply stores or by the foot at hardware stores)–4 1/2-inch-wide heart-shaped cookie cutter for a pattern, or…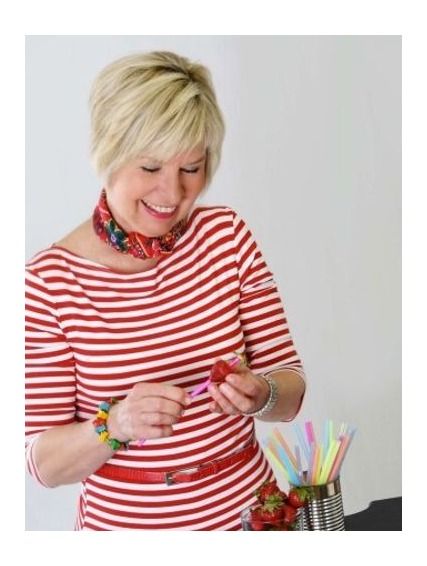 Sign Up For My Newsletter