Decorate Mini Notebooks For A Mom's Day Gift
Think of all the times you need a little notebook: to jot down an inspiring quote, the name of a must-see movie, an appointment and all things in between. But wait; it's 2021. Isn't that what memo apps on phones are for? Where reminders and inspirational "aha" moments go up to the Cloud and back to save us from our "I forgot's"? Sure, I use that techy function, but I still like my little notebook, and I carry it just about everywhere I go. It's a place where I write to me.
Mini notebooks with added flourish can be an economical, easy-to-craft gift for kids to give to Mom, Grandmother or a special aunt on Mother's Day. Using everyday items, decorate the cover of a standard tablet or mini composition notebook, and make it special.
Here's the stuff you need:
–1 small, inexpensive notebook or spiral-bound tablet approximately 4.5 inches by 3.25 inches
–Leftover attractive wallpaper, gift-wrap or scrapbooking papers.
–Old or mismatched costume jewelry pieces, such as loop earrings, beads, rhinestones, etc.
–Narrow, pretty ribbon and other decorative craft supplies
–Small alphabet letter stamps and stamp pad (optional)
–Scissors
–Craft glue
Here's the fun:
1. Cut the paper to fit the front and back covers of the tablet and glue it in place. Trim the outside corners, if necessary.
2. On a sheet of plain paper, use the stamps to stamp out "MOM," or write it by hand, or find a favorite font and print it on a computer.
3. Decorate the cover with crafty odds and ends. Cut out "MOM" from the sheet of paper and glue it on the cover. A repurposed lightweight hoop earring glued around the name makes a clever "frame."
4. Tie a contrasting ribbon around the left side of the cover next to the binding or spiral. Add trinkets, charms or beads as you tie it together.
Extra idea: As summer vacation approaches, decorate more mini notebooks for gifts to teachers, and use them as mini-journals and logs for nature finds and discoveries.
Throughout Sweden, there are a variety of ways to make, shape and bake these delicious cinnamon rolls.  There is even a national Cinnamon Roll Day every October! I learned how to make them in friend Inger's kitchen when I was teaching at a college in Jönköping. Inger always found a little job for my two…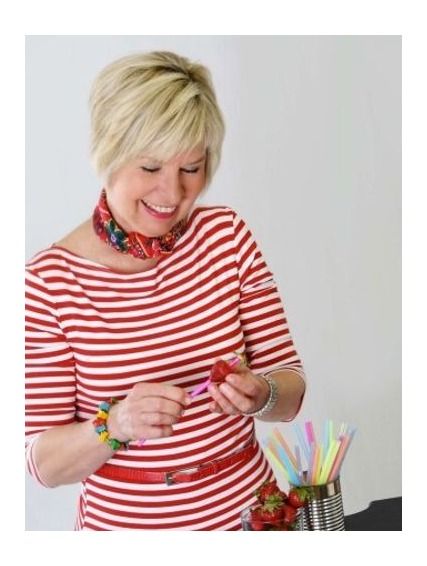 Sign Up For My Newsletter