Opportunities for families to experience life's simplest pleasures abound during summer's final days. They take minimal planning and yield happy rewards.
We enjoy impromptu evening bike rides, or a jaunt in the country to pick berries. On the return home, I choose juicy nectarines, peaches and plums at a roadside stand – a perfect combination with berries for preparing a delicious rustic fruit tart. Also called a galette, it's free-form and goes together easily, and the best part is that kids can get actively involved. Tell them they can be the "King and Queen of Tarts" as you show them how to stir, knead and roll out the pliable dough. Actually, it's perfect play for "royalty" of all ages.
For a large family-style "Rustic Fruit Tart" to serve 6-8, you'll need:
DOUGH
1 1/2 cups unbleached all-purpose flour plus 3-4 tablespoons for rolling out dough
1/2 teaspoon salt
10 tablespoons unsalted, cold butter cut into 1/2-inch chunks
3-4 tablespoons ice water
FILLING
1 cup berries (I like a combination of blueberries and raspberries or blackberries)
2 1/2 cups of peeled and thinly sliced fruit such as nectarines, peaches and plums
4-5 tablespoons sugar and 1 tablespoon for sprinkling
1 tablespoon flour
1 tablespoon lemon juice and 1 teaspoon grated lemon zest (optional)
pinch of salt
Here's the fun:
For dough, place flour and salt in a mixing bowl and let kids stir together with clean fingers. Scatter butter chunks into flour mixture, and toss and rub between fingertips until butter is the size of peas. Use a pastry blender, iyou prefer. Drizzle ice water over mixture and work it with hands until all the flour is moistened and the dough comes together. Knead a few times on a flour-covered surface, shape into a disk and wrap in plastic wrap. Refrigerate for 15-30 minutes.
Preheat oven to 400 degrees. Remove disk from refrigerator. If it is too hard to roll out, let stand in room temperature 10 minutes. On a floured surface, roll out dough into a 12-14-inch circle. Transfer to a parchment-lined rimmed cookie sheet and chill about 15 minutes.
Toss together the fruit, sugar, flour, lemon juice, zest and salt. Remove dough from refrigerator.
Mound fruit filling in the center of the dough, leaving a 2-inch border. Fold border edge up and over fruit mixture in slightly overlapping pleats to form the sides of the tart, but leave the fruit center open 4-5 inches. Remember, it's rustic, so it doesn't need to look perfect! Brush dough with a little water, sprinkle with sugar and bake 50-55 minutes or until golden brown.
Cool on rack, slide onto a serving plate, slice and enjoy with vanilla ice cream.
Throughout Sweden, there are a variety of ways to make, shape and bake these delicious cinnamon rolls.  There is even a national Cinnamon Roll Day every October! I learned how to make them in friend Inger's kitchen when I was teaching at a college in Jönköping. Inger always found a little job for my two…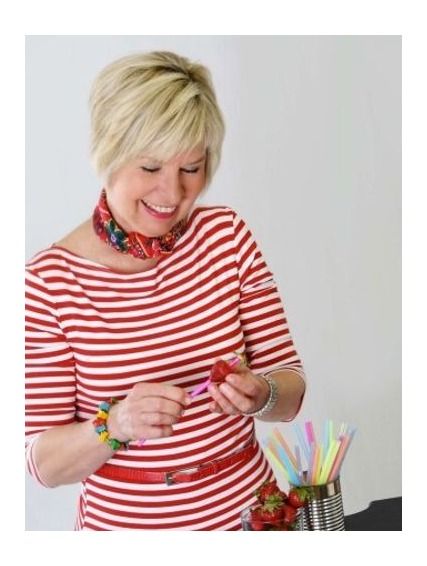 Sign Up For My Newsletter