Make and Decorate Easy Bunny Balloons
What is the difference between a bunny and a rabbit? And, just as perplexing, what is a bunny rabbit?
To California artist Ivy Chew, whether you call them "bunnies," "rabbits" or "bunny rabbits, they're the inspiration for her charming "Rabbit Run" series of archival ink and colored pencil art where her imagination takes us into the clever details of a bunny's day of activity, from gardening to folding an origami boat to playing solitaire.
I happened by her art opening in Santa Cruz, California, where she was gleefully blowing up animal balloons with a simple hand pump and twisting them with a flick of her wrist into eye-catching bunny-ear balloons in multiple shades of lime, yellow, orange and red. Playfully displayed here and there around the exhibit, they invited guests in to participate in the artful event.
They caught my eye! Ivy's bunny balloons were my inspiration for this Easter's creative family activity idea with older kids. They are simple to create with a few inexpensive supplies.
Here's the fun:
You'll need a small balloon pump or a pump used for inflating sports or exercise balls, and long, skinny balloons for balloon animals (available online, at toy stores or party supply stores).
Inflate a balloon into the shape of a long sausage, about 38 inches long. Hold it horizontally in front of you with hands outstretched about 8 inches in from each end.
Simply bring your hands together to form a "V" shape, and twist the balloon ends together at that 8-inch point. You have just created a bunny head and two floppy ears (watch a how-to video at www.donnaerickson.com).
Hold it up to frame your face and take a photo!
Make more, and set them around the house, or tie fishing line around the ears and hang in windowsills for Easter weekend.
Extra idea: Make a face for the bunny.
Set a bunny balloon flat on an 8-1/2-by-11 inch sheet of plain paper. Use balloon as a pattern, and use a pencil to outline outside of the oval head shape, minus ears. Cut it out. Use markers and colored pencils to draw and decorate the bunny's face on the paper.
Use double-stick tape to secure the rim of the paper face to the back of the balloon.
Safety note: Young children can choke or suffocate on uninflated or broken balloons. Adult supervision is required. Discard broken balloons appropriately.
Throughout Sweden, there are a variety of ways to make, shape and bake these delicious cinnamon rolls.  There is even a national Cinnamon Roll Day every October! I learned how to make them in friend Inger's kitchen when I was teaching at a college in Jönköping. Inger always found a little job for my two…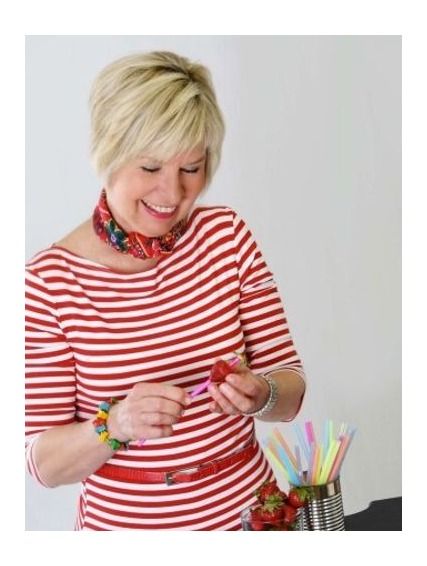 Sign Up For My Newsletter